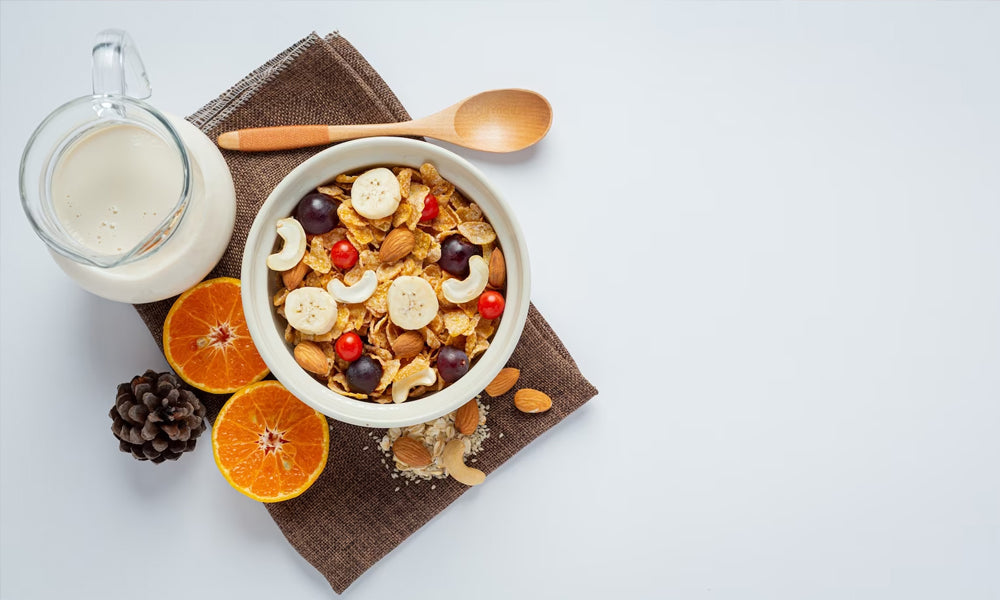 Start your day on the right foot with our delicious and nutritious protein overnight oats recipe! Packed with wholesome ingredients and a boost of protein, these oats are a perfect way to fuel your body for an active and energetic day. Prepare them the night before, and wake up to a hassle-free breakfast that will keep you satisfied and ready to take on the day.
What do you need?
- 1/2 cup rolled oats
- 1 scoop Yalla Protein
100% Whey Protein Isolate
 or
100% Whey Protein Concentrate
 in your preferred flavour
- 1 tablespoon chia seeds
- 1 cup unsweetened almond milk (or milk of your choice)
- 1 tablespoon honey or maple syrup (optional for sweetness)
- Toppings of your choice (fresh fruits, nuts, seeds, coconut flakes, etc.)
Now let's make our overnight oats…
1. In a jar or a container with a tight-fitting lid, combine the rolled oats, protein powder, and chia seeds.
2. Pour in the almond milk and add the honey or maple syrup if you want extra sweetness.
3. Stir well to combine all the ingredients thoroughly.
4. Seal the jar tightly and refrigerate overnight, or at least for 4-6 hours. This will allow the oats and chia seeds to absorb the liquid and create a creamy, pudding-like consistency.
5. In the morning, give the jar a good shake or stir to make sure everything is well mixed. If the oats appear too thick, you can add a splash of almond milk to reach the consistency you prefer.
6. Now the best part - topping your overnight oats! Get creative and add your favourite toppings such as fresh fruits like berries, sliced bananas, or diced apples. You can also sprinkle some nuts, seeds, or coconut flakes for added crunch and texture.
Tips:
- Experiment with different protein powder flavours to add variety to your oats. Chocolate, vanilla, or even fruity flavors can all work well in this recipe.
- If you prefer a sweeter taste, try adding a dash of vanilla extract or a sprinkle of cinnamon to enhance the flavors.
- To make the oats even creamier, you can mix in a spoonful of Greek yogurt or mashed banana before refrigerating them overnight.
Now Enjoy!
Collection 2019
Sale 70% Off
Title for image