The Components And Benefits Of Casein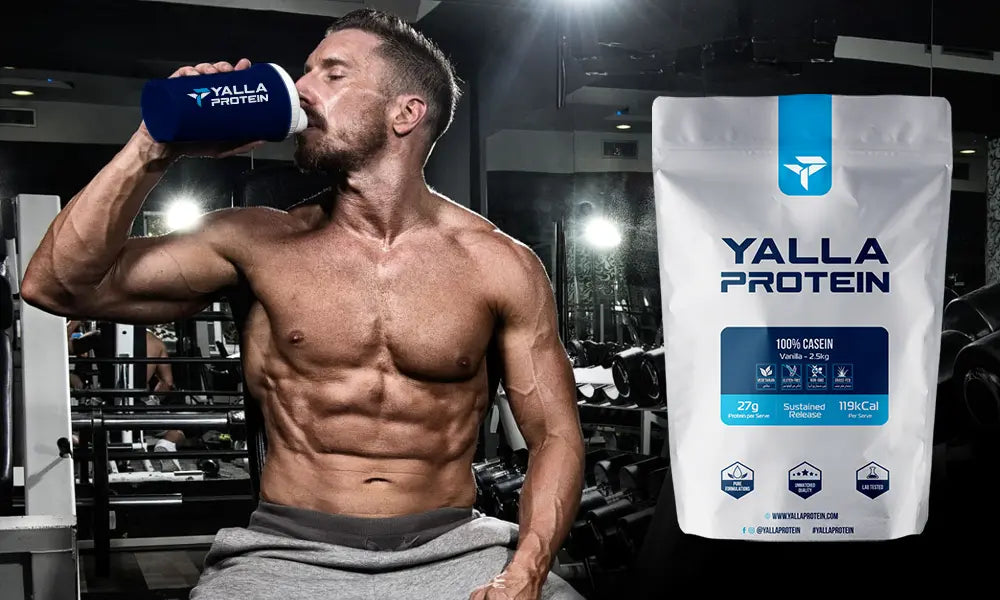 We all know we should be following high protein diets to maximise athletic gains; building strength and power and eliciting hypertrophy (muscle growth) requires it. We also all know that to follow a high protein diet properly, with an intake upwards of 150g per day, the likelihood is that we will need supplementation in the form of protein shakes.
Protein powders are big business. There are thousands of different types, brands, qualities and so on available in today's market. It can be hard to know which to pick. Today, we'll be making the case for casein, both regular and micellar.
Each will represent a good investment in your health and fitness progression.
Casein
We get casein from cow's milk, as we do many types of protein powder. Casein is the curds (the solid milk protein) that are made as a by-product of cheese manufacture. It digests slowly, letting its amino acid content spool out over a long period of time, which we will see is key.
This also makes it perfect both for protein synthesis, as the body will be almost perpetually fueled as it builds muscle, and for weight loss, as the slow breakdown of casein molecules will mean longer satiation.
Casein vs. Whey
This may sound very similar to whey. However, whey is made from the liquid portion of milk and casein from the solids. This means that they are two quite distinctly composed proteins.
Because of this, casein and whey contain different amounts of amino acids. They also each play different roles within the body. Whey is much faster digesting that casein, so may be good as a quick way to bump up your daily protein intake, perhaps pre- or post- training. Taking whey immediately after training will get amino acids into your muscles quickly, so that you can begin protein synthesis straight away, whilst casein is a good evening snack to provide protein as you recover overnight.
The Benefits of Casein 
1. It is Slow Digesting
Casein protein's slow digesting time is its main draw and the primary reason you may want to add it to your diet. It gives you a full range of amino acids, just like whey, but will work over a longer period- several hours, especially with micellar casein.
Take casein before bed for a slower, consistent release of amino acids into your body. Unless you want to get up in the middle of the night to chug a whey protein shake or eat a bowl of cottage cheese, this will be how you maintain the supply of fuel to your muscles overnight. Protein synthesis need never stop.
2. Hypertrophy, Strength and Recovery
Casein is a great tool for recovery after hard exercise. It will help to fuel hypertrophy, strength adaptation and the diminishment of post-exercise fatigue symptoms like DOMS (delayed onset of muscle soreness).
Training causes trauma. Our muscles receive micro-tears as a result of this trauma. This is what we want- it's all part and parcel of running a hypertrophy program. Protein helps to repair these tears, which is how new muscle is made. Our muscles can benefit from heightened protein intake up to a full 24 hours after hard training because of this. Though amount of protein and consistency of intake day-to-day is the most important factor for success, timing plays its role here.
The specific amino acids found in casein, including branched chain amino acids, will aid this repair process. In so doing, they will decrease soreness speed up recovery.
3. Weight Loss
Of course, we're talking about fat loss, here, not lean weight loss.
As a slow burning, densely caloric protein source, with little to no added fat or carbs, casein is perfect for those looking to maintain muscle whilst entering into a caloric deficit. It leads to greater satiation than most foods, so will keep you feeling fuller for longer, and will bring a constant stream of protein to your muscles even during a cut.
In addition, as a muscle-builder, casein should go hand-in-hand with an increased metabolic rate. Greater muscle mass means a higher metabolic rate, so maintaining good musculature will be key to keeping body fat percentages low long-term.
Casein in Food
Of course, casein powder is the purest, most easily consumed and often cheapest form of casein you can find. It is the best form of casein, realistically. Simply throwing a couple of scoops into a shake and downing it is simple and effective and will keep unwanted macronutrients to a minimum.
However, if you want to really maximise casein consumption in your diet, there are certain foods that are particularly rich in it. They will be worth including in your daily eating plans, and include:
Milk:

 

it is made up of 80% casein, meaning that all dairy products are naturally high in casein. Beware the extra fat and carbs that milk comes with milk, however- make sure to account for them in your macronutrient planning.
Butter and cheese:

 

as dairy products, these two dietary staples are unsurprisingly rich in casein. Butter and most cheeses are high in fat, so consumption should be controlled. However, if you want something that will more readily fit into your diet, try cottage cheese: it's an excellent, low or zero fat source that works well as a dip, on toast, with fruit, or even just spooned out of the carton.
Yoghurt:

 

again, it's a dairy product, so yoghurt will have plenty of casein. Try skimmed or high-protein versions like sky to boost protein intake whilst keeping fats and sugars low. They make perfect, filling and fulfilling snacks and can be enjoyed on their own, with fruit, or on top of pancakes.
To get the best quality, try New Zealand 100% Casein.
Collection 2019
Sale 70% Off
Title for image